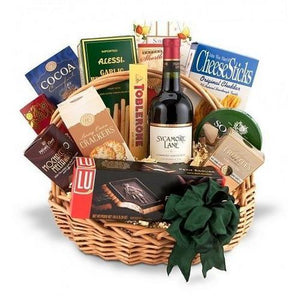 Hey i would like to ask if there is an option to make a chocolate basket with a small teddy bear(if you have) , but up to 30-35€

Yes, simply select the Custom Basket product and you can describe what you want us to include in the basket. Here is a link to the Create you own bakset to Bulgaria
Our traditional wine gift basket of one bottle of select red or white wine is accompanied by an assortment of fine gourmet foods in a lovely basket.
Gourmet foods include hand selected items from celebrated specialty shops beautifully appointed in a classic gift basket. A variety of crackers, cheese, nuts, confections, savory snacks, teas, or coffees will be included. Each basket is a one of a kind creation designed to impress the eyes, warm the heart, and please the palette.
Exact basket, gourmet selection, and wine may vary by season and delivery location.