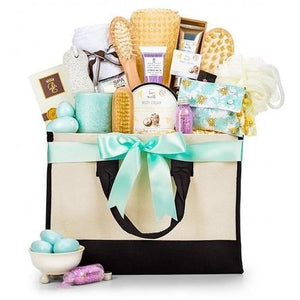 Where from do you get the products for this spa basket?

We put together this spa basket after numerous requests for such gift. We purchase the products from different local stores in Bulgaria.
Fragranced lavender bathing salts, honey and coconut hand and body moisturizers, a rustic citrus basil candle and more make this hand selected gift the quintessential collection of an ultimate spa experience. Hand-tied with a satin robin's egg blue ribbon, it's the perfect gift to offer someone who deserves a little pampering.
Included in this Gift
Bathing Salts Sachet, Hand and Body Creams.
Fragrancesed Soaps, Lavender Bath Salt and Bubble Bath.
Bath Towel, Rustic Citrus Candle and more.
Gift Dimensions
Measures 35см x 15cm x 35cm