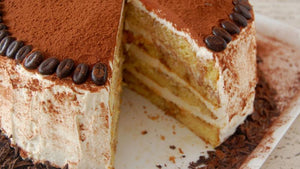 Good Morning, can you please place a Happy Birthday message on the cake? Thank you in advance.

Since we do not make the cakes but rather buy them from our local baker partners, sometimes it is not possible to write messages on them.
We will do our best to acomodate such requests but the result is not guaranteed.
Tiramisu is a timeless no-bake Italian dessert combining espresso-dipped ladyfingers and a creamy lightly sweetened mascarpone cream. High quality cake made by Bulgarian bakers with local, clean ingredients
Approx. 10inches
8 - 10 slices