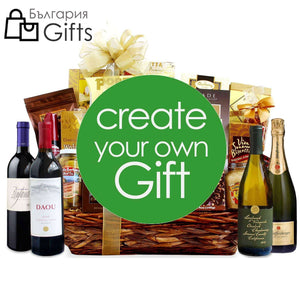 Could you please give me a list of the exact items included for the price listed $100 Levs or USD $87.00

The items in the basket vary depending on the season, location and availability. We will do our best to deliver the gift as is on the image but sometimes we may have to substitute because of the above mentioned reasons. In either case, your gift will be of equal or higher value as the gift show on the image.

Hi I have relatives that want send gift basket with good European spirits . Can I see your selection and make an selection? Thank you,

You can see the item we offer under the category of Liquor and Beer gifts in Bulgaria Gifts
https://www.bulgaria-gifts.com/collections/liquor-beer

Hi there, We have clients in Bulgaria and would like to send them gifts for Christmas. I was wondering if you carry Australian wines? (We are based in Australia). Thanks!

There is very limited selection of Australian wines in Bulgaria.
Create your own Bulgaria Gifts Basket.
Just let us know what you want us to include in your gift package and we will make sure we find the products for you. Select your own price and describe the items you wish to send.
You can include anything you can think of as long as it is available in Bulgaria and it is a legal product; flowers, clothing, beer, wine, liquor, tobacco, local and international food items, toys, electronics, small appliances, accessories etc. etc. 
The sky's the limit. Let you imagination sore. Please describe the items you want to include in your Custom Basket in the provided text area. Be as specific as you want or just give us an idea of what you want and let us do the rest.
Please be reasonable and make sure you select an appropriate value for the items you want us to send.
If we have questions regarding any of the items or we are not able to find them, we will contact you to arrange substitution or replacement.