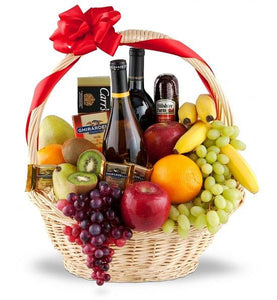 I would love to have my gift delivered the 23th of December is that possible?

During the holidays because of volume and COVID restrictions, we are not able to guarantee exact delivery date. However, we guarantee that your gift(s) will be delivered before Koleda/Christmas 25th of December.
Our premium basket is delivered brim-full with delightfully fresh fruit, flavorful sausage, as well as a selection of cheeses and crackers. We also tuck in a sweet chocolate treat to round out the selection. You may choose either one or two bottles of Chardonnay or Merlot to complete your gift. Each basket includes regional gourmet specialties and wines to make them truly unique.
Exact basket and fruit selection may vary by season and delivery location.