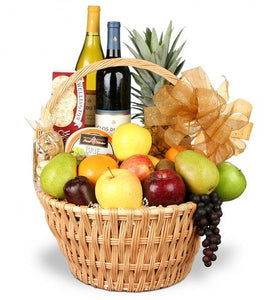 QUESTIONS & ANSWERS
Have a Question?
Ask a question about this product.
This is not a live chat.
Ask a Question
A basket of wine, fruit, and gourmet food is always a welcome gesture. Choose your selection of wine to accompany the fruit and gourmet items.
Each basket is a one-of-a-kind creation, specially prepared by an experienced local florist in your recipient's area. Fruits may include apples, pears, or bananas. Gourmet selections may include cheese, nuts, meat, or hard candies.
Photo shown online is a representation only. Specific labels of wine, brand name foods, and any specific item shown may not be included according to local availability and designer's choice.