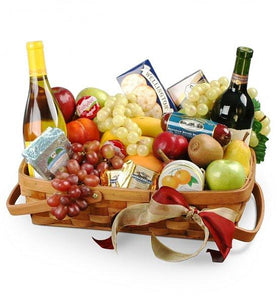 QUESTIONS & ANSWERS
Have a Question?
Ask a question about this product.
This is not a live chat.
Ask a Question
Your selection of wine arrives in a fruit and gourmet basket, prepared and delivered on the day of your request by an experienced local florist in the recipient's area.
Each basket is a one-of-a-kind creation of fresh fruit and gourmet items that may include cheeses, crackers, meats, apples, pears, or bananas.
Photo shown online is a representation only. Specific labels of wine, gourmet items, fruit, and others may not be included due to local availability or designer's choice.