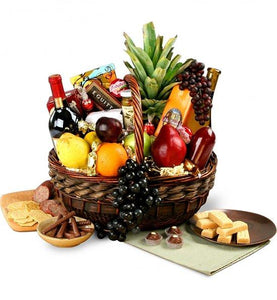 QUESTIONS & ANSWERS
Have a Question?
Ask a question about this product.
This is not a live chat.
Ask a Question
An experienced local florist in your recipient's area will fill a large basket with fresh fruit and gourmet items. Possible items include one white and one red bottle of California and Bulgarian wine, apples, oranges, grapes, bananas, sausages, cheeses, crackers, nuts, cookies, chocolates etc
Each basket is a unique creation. Photo shown online is a representation only. Specific basket and items in basket will change according to local availability or designer's preference.