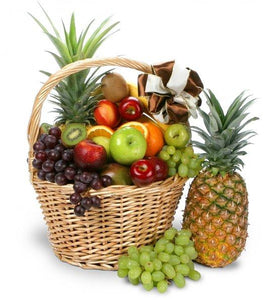 QUESTIONS & ANSWERS
Have a Question?
Ask a question about this product.
This is not a live chat.
Ask a Question
Wonderfully displayed in a handsome basket, our Colossal Fruit Basket contains the most luscious domestic and tropical fruits available. Fruits may include apples, oranges, grapes, kiwi, pears, nectarines, bananas, pineapple, and coconut as available. A great gift for any occasion.
Exact basket and fruit selection may vary by season and delivery location.