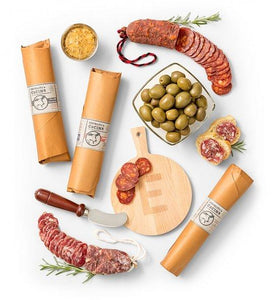 QUESTIONS & ANSWERS
Have a Question?
Ask a question about this product.
This is not a live chat.
Ask a Question
Three varieties of traditional Bulgarian salami are joined by stone ground mustard, organic Greek olives and more in this savory, shareable basket. With a personalized tasting board for serving, it's a perfect gift for your Bulgarian friends and family and any foodie or culinary adventurer.
Measures 10" x 4" x 7"