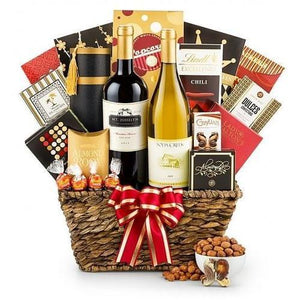 Good Morning - I am here in Canada and I have chosen a gift basket from your site to send to a friend/colleague in Sofia - can we add a note with the delivery? We wrote some kind words to her from our team and we wanted to be sure she received the note. Are you able to accommodate that if I sent it by email to you? Also what is the conversion rate between canadian and bulgarian dollars? The basket we want is the California Basket. Will I be able to pay on line and add the note as well? Thanks for your help

During the order process you are given to opportunity to write a message that we will include on the card with your gift(s). In case you need to add and or change your message to the gift recipient in Bulgaria, please send us email with your order number and the exact changes you want to make and we will make sure they are done.

Здравейте Какви точно са вината? Приемате ли плащане с кредитна карта Виза? Колко време е нужно за доставка в Русе? Мерси

The wines are selected variety of Bulgarian wines unless specifically named the type of wine that is included with the gift. We can deliver to Rouse in 24hrs during the week and we need 2 days if it is during the weekend.

How do I add extra bottles of wine

Just select the number of bottles you want using the quantity pull down menue under each item
Two classic wines and a hand-selected variety of gourmet delicacies present a sophisticated selection that delivers all of the prestige and flavor of local wine country to anyone you would love to impress.
Included in this Gift
One bottle each of Red, and Chardonnay.
Lindt Dark Chocolate Chili Tablet, Marich Chocolate Cherries.
Gourmet White Cheddar Popcorn, Guylian Truffles and more.
Gift Basket Dimensions
Measures 14" x 13" x 7"