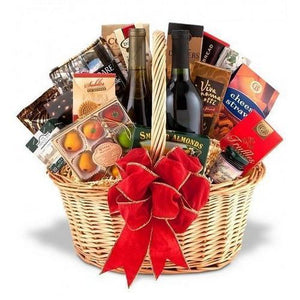 QUESTIONS & ANSWERS
Have a Question?
Ask a question about this product.
This is not a live chat.
Ask a Question
Send this basket to those you wish to impress or congratulate. Two well-regarded wines (your choice of two red, two white, or one of each) are nestled in a traditional basket filled with an array of delicious foods guaranteed to be relished. The recipient will also discover gourmet selections such as specialty crackers, cheese, dips, smoked seafood, cookies, candies, teas, or coffees.
Exact basket, gourmet selection, and wine may vary by season and delivery location.