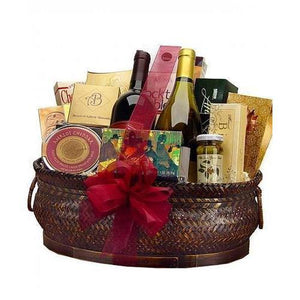 Can you deliver it to this address? Bukston Street, Yambol, Bulgaria, 8600

Yes, we deliver gifts and flowers to Yambol, Bulgaria as long as you place the order a day or two in a advance.
Two bottles of select wines from award winning vineyards are the focus of this basket.
Add your personal touch in this basket by selecting a wine option of two reds, two whites, one bottle of each, or one bottle of champagne. A variety of gourmet foods are included in the basket to enhance the flavor of the wines. Delicacies such as seasoned crackers, cheese, olives, nuts and other cocktail nibblers are artfully arranged with cookies and specialty confections in an attractive basket.
A great gift for any occasion.
Basket design will vary due to location and availability.
Gift Includes:
Your choice of Champagne, Red & White Wine, or Two Bottles of Each.
Assorted Gourmet Items.