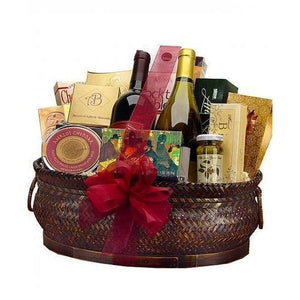 could you list the exact items that will be included in the basket for the price listed? I want to send it to Sofia, Bulgaria.

The items in the basket vary depending on the season, location and availability. We will do our best to deliver the gift as is on the image but sometimes we may have to substitute because of the above mentioned reasons. In either case, your gift will be of equal or higher value as the gift show on the image.
Two bottles of select wines from award winning vineyards are the focus of this basket.
A variety of gourmet foods are included in the basket to enhance the flavor of the wines. Delicacies such as seasoned crackers, cheese, olives, nuts and other cocktail nibblers are artfully arranged with cookies and specialty confections in an attractive basket.
A great gift for any occasion.
Basket design will vary due to location and availability.