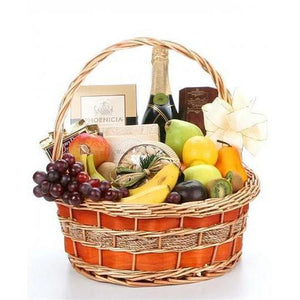 QUESTIONS & ANSWERS
Have a Question?
Ask a question about this product.
This is not a live chat.
Ask a Question
This supreme fruit basket is highlighted by a bottle of champagne.
The basket is generously filled with fresh fruits and gourmet items such as: crisp apples, juicy oranges, bananas, kiwi, gourmet cheese, crackers, summer sausage, and candies.
Exact basket and fruit selection may vary by season and delivery location.
Gift Includes:
One Bottle of Fine Champagne.
Assorted Fresh Fruit. 
Assorted Gourmet Items.