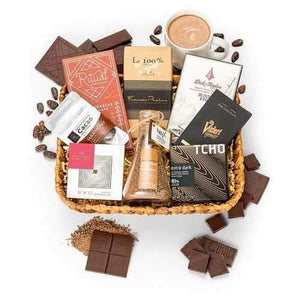 QUESTIONS & ANSWERS
Have a Question?
Ask a question about this product.
This is not a live chat.
Ask a Question
Your favorite dark chocolate lover will relish in the experience of six artisan cacao tablets ranging from 70% to 100% cacao, sourced from all over the globe. These exotic cacao bars are accompanied by a 70% cacao drinking chocolate from Ecuador, and arrive artfully arranged inside a rustic woven basket.
Gift Basket Dimensions
Measures 12" x 10" x 4".