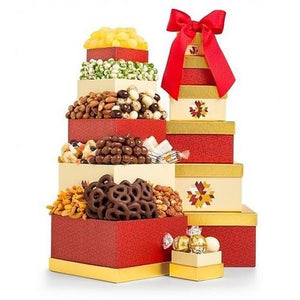 QUESTIONS & ANSWERS
Have a Question?
Ask a question about this product.
This is not a live chat.
Ask a Question
One box after another is filled to the brim with chocolate confections, fresh nuts and gourmet snack mixes. Dressed up with a hand-tied satin ribbon, this sizable tower is guaranteed to leave a lasting impression.
Gift Tower Dimensions

Measures 16" H.