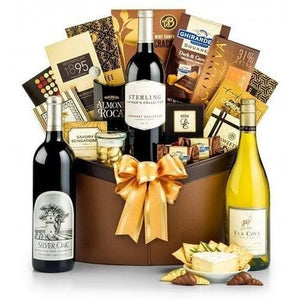 QUESTIONS & ANSWERS
Have a Question?
Ask a question about this product.
This is not a live chat.
Ask a Question
Berry-rich Cabernet, crisp Pinot Gris, and an option to include a third bottle of esteemed Cabernet Sauvignon elevate this gift to remarkable prestige. Paired with gourmet sweets and savory companions, this gift leaves a long-lasting impression.
Included in this Gift
Luxury Chocolate from Weinrich, Godiva, Ghirardelli and more.
Camembert Cheese, Olive Oil Crostini, Habanero Pepper Jelly.
Lindt Truffles, Gourmet Coffee, Pomegranate Truffles and more.
Gift Basket Dimensions
Measures 15" x 13" x 13".