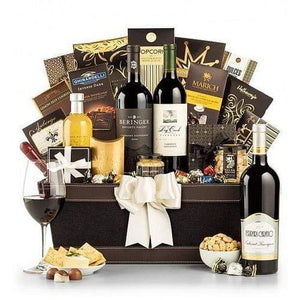 hello 1-How many bottles this gift includes? 2-What are the options can i choose from (champagne, red wine, White wine...) 3- can you deliver the gift on specific date? The place is in sofia

This basket contains 4 bottles of wine and you can specify if you want all red or some combination of red and white in the additional notes of the order. Yes, you can select the date you want us to deliver this in Sofia and throughout Bulgaria.

What are the wines included in this gift basket?

The wines are chosen from a reputable wine store in the local city in Bulgaria where the gift is to be delivered. If you have requested a specific wine we will make sure to find it for you.
Deliver long lasting enjoyment at a platinum level with this abundant gift of three opulent and distinct Cabernet sauvignons, paired with epicurean fare.
Included in this Gift
Camembert Cheese, Fig and Orange Spread, White Balsamic.
Gourmet Chocolates from Lindt, Ghirardelli, Marich and more.
What else is in this gift basket?
Gift Basket Dimensions
Measures 18" x 14" x 19".