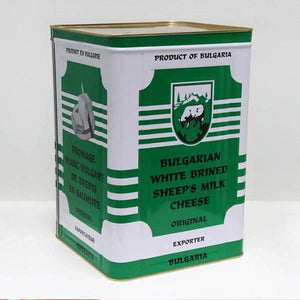 Vous pouvez envoyer en Suisse le fromage

Malheureusement, nous ne pouvons livrer des cadeaux qu'en Bulgarie et n'avons aucun moyen de livrer dans d'autres pays.

Can you deliver to Romania ?

Unfortunately we only deliver to Bilgarian cities.

What is the weigh of Bulgarian Feta Cheese (Sirene) ?

The weight of the Feta Cheese Tin is 1kg. If you need a larger quantity, you could place a customer order where you can tell us what products you wan us to include in your gift and we will make sure we find all items for you. Click here to place a customer order.
Bulgarian Feta Cheese is a hard white brine cheese, much like Greet feta cheese. It has a unique aroma and taste and is a staple item in the Bulgarian cuisine. The unique properties are due to a specific strains of lactic acid bacteria, the most famous of which is the lactobacillus bulgaricus.