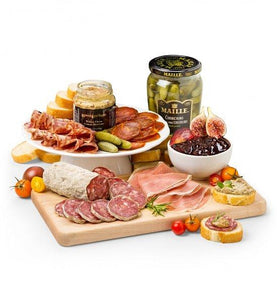 QUESTIONS & ANSWERS
Have a Question?
Ask a question about this product.
This is not a live chat.
Ask a Question
Premium Bulgarian salami, cheese and charcuterie in fine imported pairings fill this exclusive gift basket that is sure to delight and impress any of your friends and family in Bulgaria. The gift basket include assorted Bulgarian and imported sausage, salami, prosciutto, Maille Cornichons, Garlic Mustard, Crackers and more.