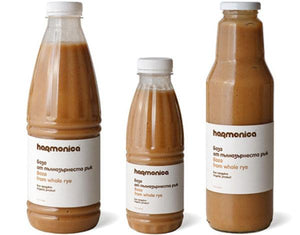 Hi there where are you located in?

Our main office and product depot warehouse are in Sofia, Bulgaria. We work with local shops, stores and producers from all over Bulgaria do deliver the gifts.

Come posso acquistarls

Puede hacer un pedido en línea aquí para comprar la bebida boza y la entregaremos en cualquier lugar de Bulgaria.
You can just place order online here to buy the boza drink and we will deliver them anywhere in Bulgaria
A traditional old favorite Bulgarian drink that Bulgarians usually have in the morning with their breakfast or in the afternoon accompanied by a light sank. It pairs perfectly with cheese banitsa or a local Bulgarian pastry. Boza is made from rye, wheat and millet, with some added sugar. It contains 5% alcohol as it is fermented drink that gives it the distinct tangy taste.