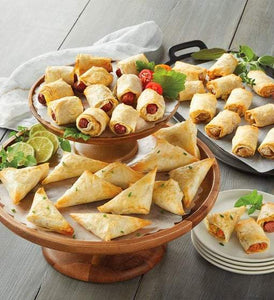 QUESTIONS & ANSWERS
Have a Question?
Ask a question about this product.
This is not a live chat.
Ask a Question
Delight your friends and family in Bulgaria with this gourmet appetizers of savory mini-banichki. Cocktail franks are a mouthwatering classic. Nitrate-free, all-beef franks are dressed in Dijon mustard and sauerkraut before being wrapped by hand into filo rolls. Simply bake in the oven and serve to impress.
Approximately 36 appetizers - 800gr